Quality Presentation on the Tesla Fraud Given at Wharton
Presentation on the Tesla fraud was recently given at Wharton. Not a full overview obviously, but a very good job for being limited to 33 slides. It hits most of the high points.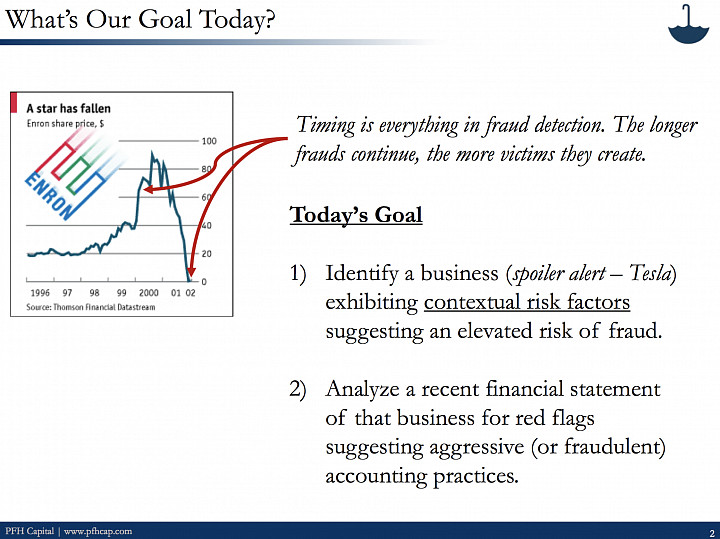 Link to full presentation:
https://cdn2.hubspot.net/hubfs/4626988/TSLA%20short-PFH%20Capital-3-19-19.pdf?utm_campaign=Newsletters&utm_source=hs_email&utm_medium=email&utm_content=71096108&_hsenc=p2ANqtz--6OV6UQ93B_bSH7UjFXSSu2B1yPnKATpVwU4M1HKSRS8CVr6IU-2HG8LE-NfJpT6OnnllVwDDOgsgkVRjtBPt6LpVjLg&_hsmi=71096108
It gives an overview of the following elements of the ongoing fraud:
- intricate web of subsidiaries and VIEs
- scammy financing arrangements (lease, resale value guarantees)
- management turnover (not fraud, but a red flag)
- shifting funds between Musk enterprises
- Musk's constant bevy of lies on his Twitter account and in public statements
- Musk's securities fraud
- egregious expense misclassification to dress up margins, reduces costs, and increase net income and cash flow (SG&A, R&D, PP&E)
- opacity in A/R
- fake (i.e., overstated) cash balance
- stretched DPO (which this presentation call "delaying payments")
- decreased warranty reserves
- tax fraud*
* I'm glad this presentation mentioned Tesla's tax fraud and ABL fraud, which are some of the lesser appreciated elements of the chicanery that's going on. It goes something like this:
1. Tesla takes in cash for a vehicle
2. Delivers the vehicle with temporary tags to avoid registering the vehicle
3. Because ABL lenders can't track a specific vehicle that's been sold until it's registered, Tesla can avoid paying down its ABL (the ABL is backed by unsold inventory)
4. For this same reason, Tesla can also delay paying sales tax
That's why you see a gap between VINs and Tesla vehicles registered in the public data. (Only certain jurisdictions keep vehicle registrations public.)
At the tail-end, the presentation covers the Model Y scam, which is clearly some unused Model 3 prototype at its "unveiling." It's a car that doesn't exist and won't exist for a long time. The company would need to remain solvent and increase its manufacturing capacity.
It's simply a way to collect deposits – i.e., the easiest way to take in cash without providing a product or service. This is how Tesla effectively fundraises. The presentation didn't discuss it, but Tesla is not eligible for a non-reviewed capital raise given its sanctioning by the SEC under antifraud provisions, which almost always revokes a corporate entity's WKSI status.