Tesla Fraud Update: Mismatched VINs + Ohio AG Documents + FSD/Autopilot
Tesla customer states that their Model 3 has two different VINs marked on the car. One on the dash plate and another on the door sill.

Full thread can be viewed here.
- What's the status of the other car to which the VIN was mismatched?
- Is it incompetence/negligence/sign of poor manufacturing quality control?
- Or is it purposeful?
- How does that influence the count of deliveries and sales when two VINs are delivered with the same vehicle? One of each? Two deliveries, one sale? One delivery, two sales? Two of each?
Tesla has a suspect history and relationship with VINs with the "Bloomberg tracker" that a lot of people look toward, which feeds into their models of Tesla's "fair value."
Tesla games that metric because VINs are sold before the cars are produced. Tesla applied for 143,000 Model 3 VINs during Q1 despite already having 43,000 VINs more than it had produced going into the quarter. It can be used to mislead the public about its production plans given that metric is so commonly followed.
__
Ohio Attorney General Documents
The set of documents that can be found here detail public records for the Ohio Attorney General concerning cases of consumer fraud and deposits and cancellations. The document is over 700 pages, but go about as fast as 700 pages can go.
–
FSD/Autopilot
FSD ("full self-driving") is a source of consumer fraud peddled by Tesla by giving the impression that the car can drive itself without, or with minimal, human intervention. The reality is that these cars cannot fully drive on their own, the technology works on a very limited scale, though some buyers of these vehicles take the bait. The term "full self-driving" is misleading. Its functionality is flawed and not appropriate for use in a range of driving scenarios. The company has been taking money for FSD since October 2016 in order to collect more revenue per vehicle and hit sales and revenue targets.
Here is a recent example posted on Twitter of a Tesla vehicle running into the car in front of it. This is not believed to be because of malfunctioning Autopilot itself, but rather because the driver became inattentive (likely because the car "drives itself"), fell asleep, and pressed the accelerator.
https://twitter.com/NetflixAndLamp/status/1114527009743437824
Here is one customer's account of malfunctioning Autopilot.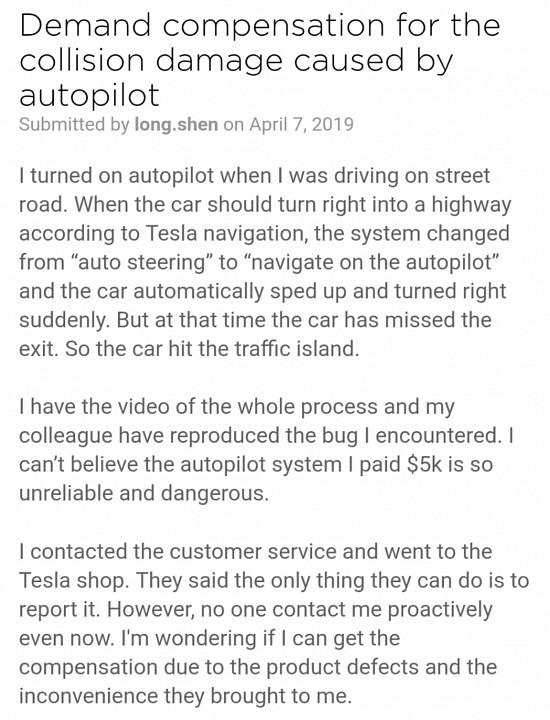 This technology is not mature and dangerous. It was only a few years ago when another Silicon Valley "billionaire" was experimenting with people's lives with beta versions of certain technologies to pump her company's valuation.